Luke wrote his Gospel with the purpose of helping Theophilus and other readers to have certainty about their beliefs (see Luke 1:1-4).
Imagine you were in Luke's shoes and were writing an account of Jesus' life to help give other believers more certainty about their faith.
How would you start your story?
With the birth of Jesus? Maybe an Old Testament prophecy?
Well what did Luke decide to start his Gospel with?
A man named Zechariah.
Luke chapter 1 has 80 verses and many of them are focused on Zechariah (sometimes called Zacharias).
What makes Zechariah so important that Luke would spill so much ink about him?
That's what I hope to help you see. Throughout this article we are going to trace our way through Luke chapter 1 and make observations about Zechariah.
Here are 24 facts you need to know about Zechariah and the Christmas story:
1) Zechariah is worth studying so that you may have certainty of your own faith.
Luke 1:3-5 says,
It seemed good to me also, having followed all things closely for some time past, to write an orderly account for you, most excellent Theophilus, that you may have certainty concerning the things you have been taught. In the days of Herod, king of Judea, there was a priest named Zechariah, of the division of Abijah. And he had a wife from the daughters of Aaron, and her name was Elizabeth.
Luke wrote his Gospel to give believers certainty about their beliefs.
Luke began his Gospel by talking about Zechariah.
Therefore, Zechariah is worth studying to have more certainty of your own faith.
2) Zechariah was a priest of the division of Abijah.
Historically, there were 24 divisions of the priests and they would rotate in their priestly duties.
Luke specifically notes that Zechariah was in the division of Abijah and that will become more significant in just a couple of verses.
3) Zechariah and his wife Elizabeth were both of the priestly line.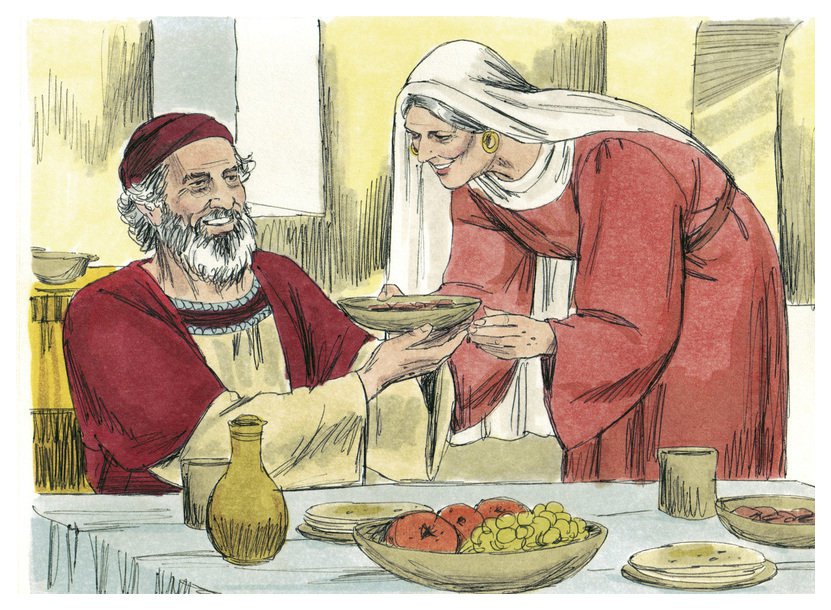 Remember that priests were intercessors between God and the people at that time and they played an important role in Israel.
Since Zechariah and his wife were both from priestly lines you could say they were both from "good stock".
It is notable that Elizabeth was also of the priestly line because Zechariah was not required to marry someone of the priestly line, but he did anyways.
Further significance of Zechariah and Elizabeth's lineage will become apparent later in the chapter.
4) Zechariah and Elizabeth were righteous people.
Luke 1:6 says,
"And they were both righteous before God, walking blamelessly in all the commandments and statutes of the Lord."
This means Zechariah and Elizabeth weren't just from "good stock" but they were actually righteous people honoring God with their lives.
5) Zechariah and Elizabeth were old and without children.
Luke 1:7 says,
"But they had no child, because Elizabeth was barren, and both were advanced in years."
This passage is clear that they were way too old to be having kids.
We've all heard stories of someone having a child in their 40's, but this passage is indicating that they are even past that stage.
Having children should be impossible for them.
6) Zechariah was chosen by lot to burn incense in the temple.
Luke 1:8-9 says,
"Now while he was serving as priest before God when his division was on duty, according to the custom of the priesthood, he was chosen by lot to enter the temple of the Lord and burn incense."
The fact that Zechariah was chosen by lot to enter the temple and burn incense shows that what was about to happen was by divine appointment.
But notice how the passage says, "when his division was on duty".
Luke mentions Zechariah's division (Abijah) because he's giving evidence as to why this story is true.
As many of you know, a miraculous event is about to happen and Luke mentions Zechariah's priestly division because he's presenting them as witnesses to the events that took place.
Luke wanted people to know about Zechariah's division because he wanted them to know that they could ask the priests of the division of Abijah to verify what he was saying.

7) A whole multitude of people were present as Zechariah went to burn incense.
Luke 1:10 says,
"And the whole multitude of the people were praying outside at the hour of incense"
This is significant for a couple reasons:
1) Again, there were many people present who could bear witness to the events that were about to take place
2) With that multitude of people praying, you can imagine there were plenty of people praying for God to save them.
In fact it was common during the burning of incense for the people to pray for God to save them from captivity and to save them from their sin.
(Little did they know God would soon bring the savior into the world).

8) As Zechariah and the people prayed, God sent a messenger to answer their prayers.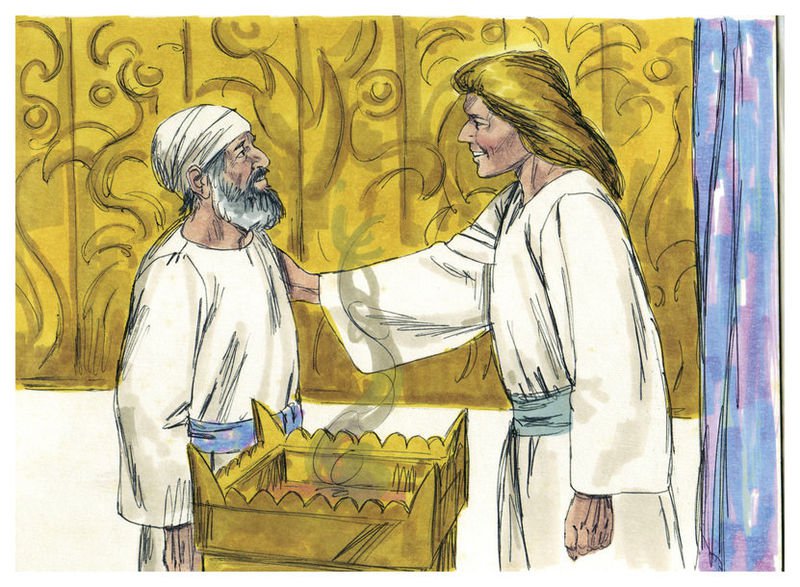 Luke 1:11-12 says,
"And there appeared to him an angel of the Lord standing on the right side of the altar of incense. And Zechariah was troubled when he saw him, and fear fell upon him."
This is a powerful display of how God really listens to and hears our prayers.
Sometimes we don't know why God is silent.
The people of Israel felt God had been silent for the last 400 years!
But God will send the right message at the right time.

9) Zechariah was afraid in the presence of the angel.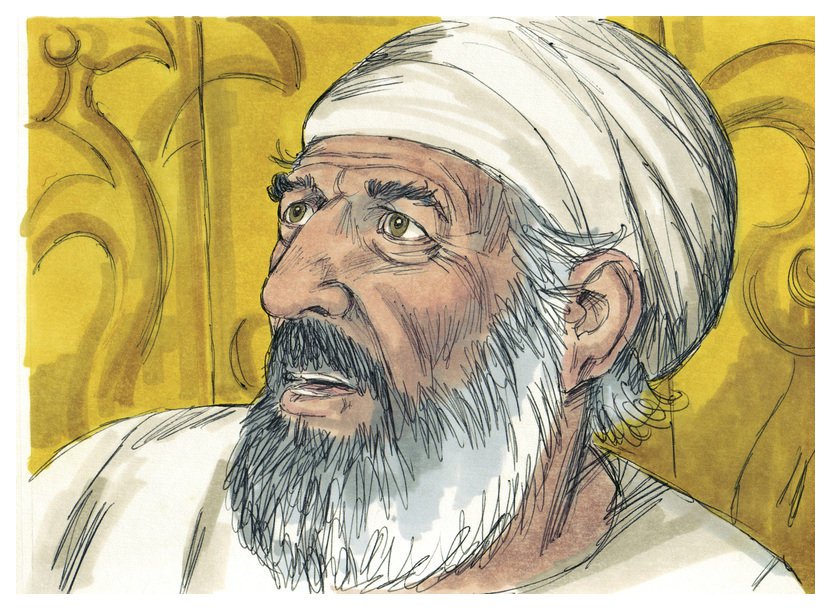 Luke 1:13 says,
"But the angel said to him, "Do not be afraid, Zechariah, for your prayer has been heard, and your wife Elizabeth will bear you a son, and you shall call his name John."
As is common throughout scripture, it is a fearful thing to be in the presence of any kind of holy being.
10) Zechariah had been praying for a son.
This is a really touching scene.
Here is Zechariah lighting the incense, praying with a multitude of people for the salvation of their nation and salvation from their sins.
But just like we do today, Zechariah had one little selfish prayer:
"God would you give me a son?"
They say that today in America 1 in 5 couples are infertile.
I've seen and spoken to many couples who grieve that they weren't able to have kids.
To be sad about not having children is a completely natural feeling to have, and in Zechariah's day that would have been magnified. Back then you wanted a son to carry on the name and legacy of your family.
You have to wonder how many years, how many decades, how many thousands and thousands of times did Zechariah and Elizabeth pray that they would have a son?
And here Zechariah is in the temple, advanced in age, probably feeling a little foolish, but sincerely wishing with hope beyond hope that God would give him a son.
And the angel arrives with a message and says, "Do not be afraid, Zechariah, for your prayer has been heard, and your wife Elizabeth will bear you a son, and you shall call his name John."

11) Zechariah's son John would have a great destiny and be blessed by God.
Luke 1:14-15 says,
"And you will have joy and gladness, and many will rejoice at his birth, for he will be great before the Lord. And he must not drink wine or strong drink, and he will be filled with the Holy Spirit, even from his mother's womb."
It is incredible to think that Zechariah's son John would be filled with the Holy Spirit even as an unborn child!
Side note: this is a powerful passage that shows the personhood and unique value of infants in the womb. That baby in Elizabeth's womb was John, known and blessed by God.
12) Zechariah's son John had a special calling to prepare the way for the Lord.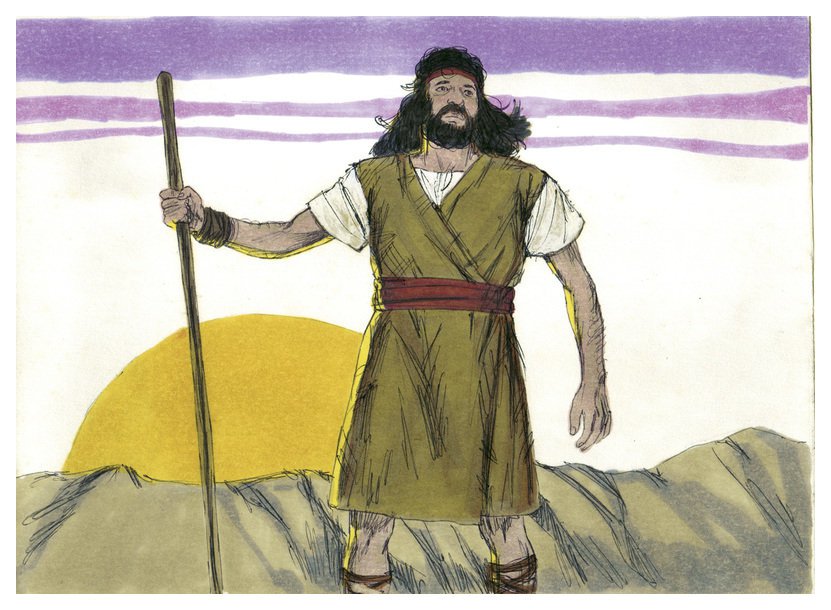 Luke 1:16-17 says,
"And he will turn many of the children of Israel to the Lord their God, and he will go before him in the spirit and power of Elijah, to turn the hearts of the fathers to the children, and the disobedient to the wisdom of the just, to make ready for the Lord a people prepared."
Remember how both Zechariah and Elizabeth were of the priestly line?
What job do you think their son John would have had under normal circumstances?
Their son John the Baptist normally would have fit a priestly role and in a way he did.
He was an intercessor between God and man unlike any priest had been before. He prepared the way for the savior.
A priest would normally observe purification rites, make sure people were clean as the entered the temple, and prepare them as sacrifice was made for their sins
What we know from John the Baptist's ministry, is he did the same thing a priest did but in a different sense.
Performing the baptism of repentance, he helped to prepare people's hearts for the sacrifice of Jesus Christ to cleanse them from their sins.
So what do you think Zechariah's response was to the incredible news that he would have a son with a great destiny and special calling?
13) Zechariah doubted the good news.
Luke 1:18 says,
"And Zechariah said to the angel, 'How shall I know this? For I am an old man, and my wife is advanced in years.'"
Here he had been praying for a son for years, even in the temple, and God finally sent an angel to tell him that this prayer has been answered.
How does he respond?
He questions the angel.
So how does the angel respond to Zechariah's question?

14) Zechariah was silenced.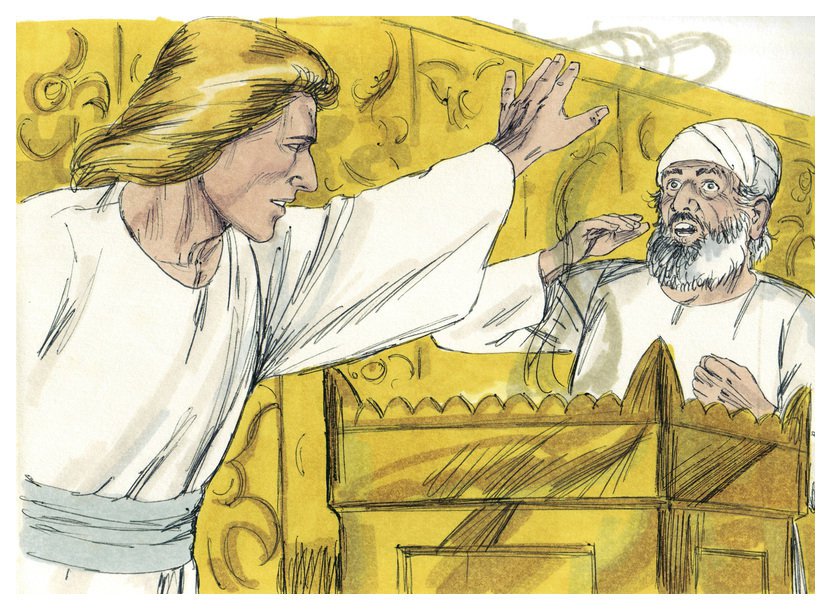 Luke 1:19-20 says,
And the angel answered him, "I am Gabriel. I stand in the presence of God, and I was sent to speak to you and to bring you this good news. And behold, you will be silent and unable to speak until the day that these things take place, because you did not believe my words, which will be fulfilled in their time."
The angel shut the lips Zechariah used to doubt the good news from God.
Notice how the angel says, "I am Gabriel. I stand in the presence of God".
He's basically saying, "Don't you know who I am? My message comes directly from God!"
Also, Zechariah probably had read of Gabriel from the book of Daniel (Daniel 9:20-23).
Just as Gabriel had been sent to answer Daniel's prayer he also was sent to answer Zechariah's.
But the point is, Zechariah doubted Gabriel and was silenced.

15) Zechariah became mute in the presence of many witnesses.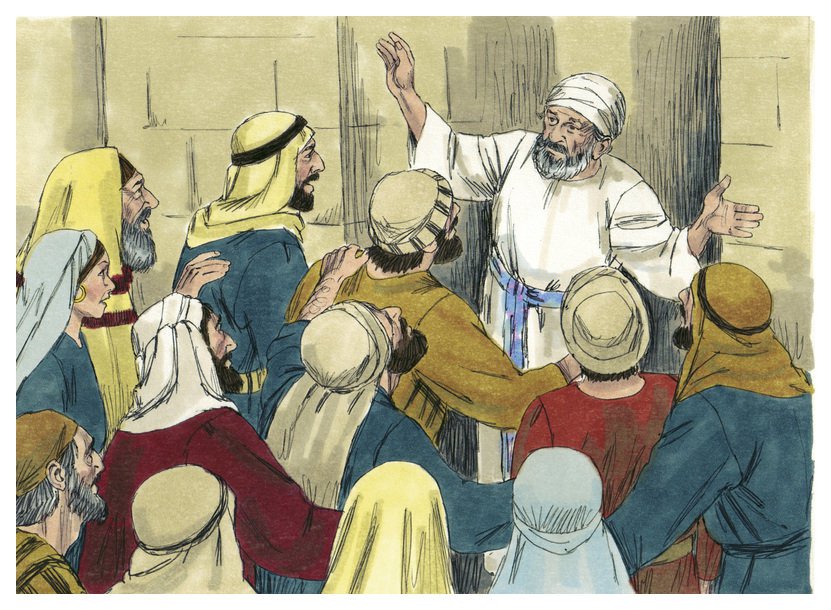 Luke 1:21-23 says,
And the people were waiting for Zechariah, and they were wondering at his delay in the temple. And when he came out, he was unable to speak to them, and they realized that he had seen a vision in the temple. And he kept making signs to them and remained mute. And when his time of service was ended, he went to his home.
Zechariah was in the temple long enough that people started to wonder about him.
You can imagine the people speaking in hushed tones asking, "what's happened to Zechariah?"
Eventually he comes out, except he's mute and unable to speak.

16) Zechariah's wife rejoiced in receiving a child.
Luke 1:24-25 says,
After these days his wife Elizabeth conceived, and for five months she kept herself hidden, saying, "Thus the Lord has done for me in the days when he looked on me, to take away my reproach among people."
For Elizabeth it was a shame, a disgrace to never have had a child, but here she is rejoicing.
For a good section of Luke, the attention goes away from Zechariah and to Elizabeth and Mary.
Part of the reason for that is because Zechariah was now mute and not saying anything!
But this passage is ultimately about the background of two little boys who are soon to be born and the passage naturally shifts to focus on the mothers carrying their precious children.
Fair warning! The following passage is quite long, but I will point out a few observations about it afterward.
Luke 1:26-45 says,
In the sixth month the angel Gabriel was sent from God to a city of Galilee named Nazareth, 27 to a virgin betrothed to a man whose name was Joseph, of the house of David. And the virgin's name was Mary. 28 And he came to her and said, "Greetings, O favored one, the Lord is with you!" 29 But she was greatly troubled at the saying, and tried to discern what sort of greeting this might be. 30 And the angel said to her, "Do not be afraid, Mary, for you have found favor with God. 31 And behold, you will conceive in your womb and bear a son, and you shall call his name Jesus. 32 He will be great and will be called the Son of the Most High. And the Lord God will give to him the throne of his father David, 33 and he will reign over the house of Jacob forever, and of his kingdom there will be no end."
34 And Mary said to the angel, "How will this be, since I am a virgin?"
35 And the angel answered her, "The Holy Spirit will come upon you, and the power of the Most High will overshadow you; therefore the child to be born will be called holy—the Son of God. 36 And behold, your relative Elizabeth in her old age has also conceived a son, and this is the sixth month with her who was called barren. 37 For nothing will be impossible with God." 38 And Mary said, "Behold, I am the servant of the Lord; let it be to me according to your word." And the angel departed from her.
Mary Visits Elizabeth
39 In those days Mary arose and went with haste into the hill country, to a town in Judah, 40 and she entered the house of Zechariah and greeted Elizabeth. 41 And when Elizabeth heard the greeting of Mary, the baby leaped in her womb. And Elizabeth was filled with the Holy Spirit, 42 and she exclaimed with a loud cry, "Blessed are you among women, and blessed is the fruit of your womb! 43 And why is this granted to me that the mother of my Lord should come to me? 44 For behold, when the sound of your greeting came to my ears, the baby in my womb leaped for joy. 45 And blessed is she who believed that there would be a fulfillment of what was spoken to her from the Lord."

17) Zechariah and Elizabeth ministered to Mary.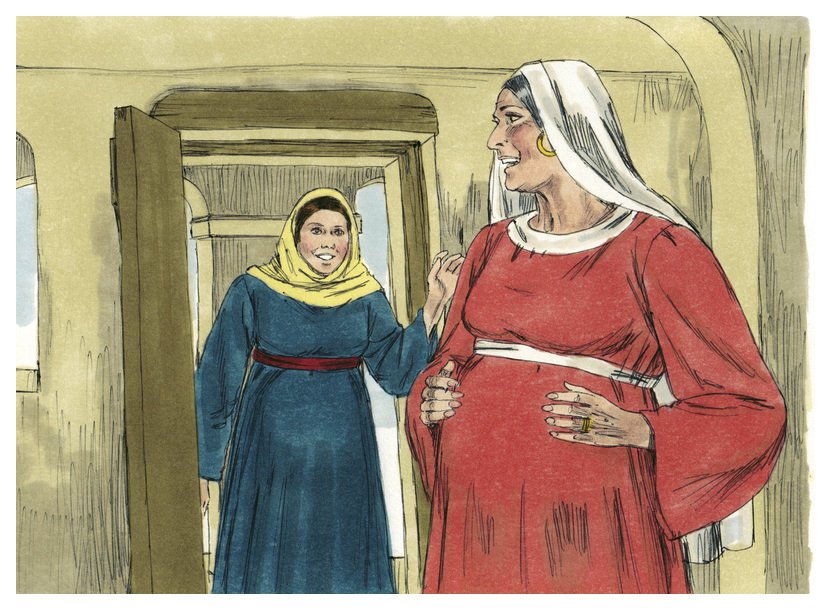 Mary was afraid and perplexed by the news Gabriel brought to her, but to comfort her, he told her how Elizabeth also had a miraculous pregnancy.
Mary was a young girl, some guess about 14 years old, and while she trusted the Lord, it makes sense that she would go to her respected, godly, and older relatives Zechariah and Elizabeth for comfort.
18) Zechariah's son John already recognized the presence of Jesus while in the womb.
In verse 41 we see that not only was John filled with the Holy Spirit but so was his mother.
19) Zechariah failed to believe the angel, but Mary had faith.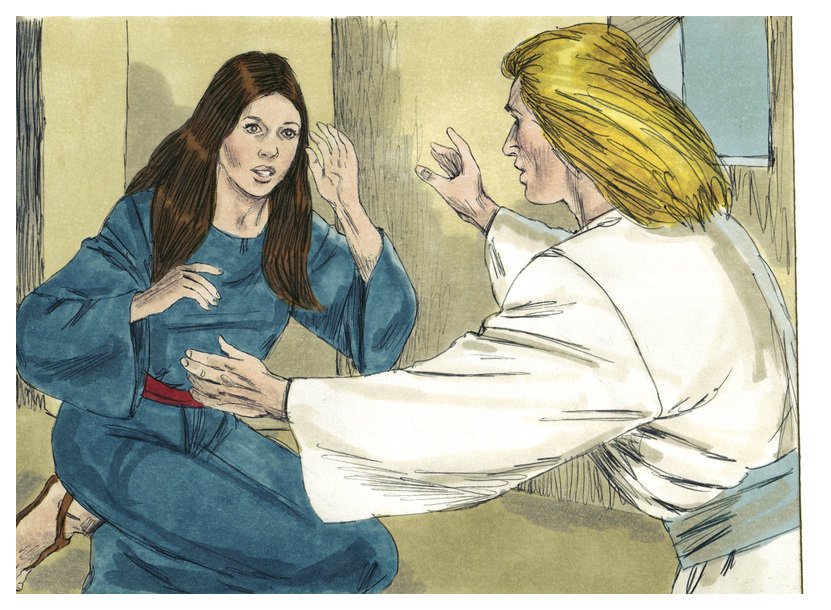 A righteous man of God, a priest failed to have faith, but a young teenage girl had faith.
This is a great example of the value of faith.
Zechariah surely had more knowledge than Mary and had devoted his life to serving the Lord doing many more good works in his life than Mary had been able to.
And yet, Zechariah was punished for his lack of faith while Mary is the one who had faith and was blessed.
This is an important reminder for us to have faith in God. And what is faith? It's trust. Trust in God's word.
You can see Mary's faith clearly in her song, The Magnificat, in Luke 1:46-56
And Mary said,
"My soul magnifies the Lord,
47 and my spirit rejoices in God my Savior,
48 for he has looked on the humble estate of his servant.
For behold, from now on all generations will call me blessed;
49 for he who is mighty has done great things for me,
and holy is his name.
50 And his mercy is for those who fear him
from generation to generation.
51 He has shown strength with his arm;
he has scattered the proud in the thoughts of their hearts;
52 he has brought down the mighty from their thrones
and exalted those of humble estate;
53 he has filled the hungry with good things,
and the rich he has sent away empty.
54 He has helped his servant Israel,
in remembrance of his mercy,
55 as he spoke to our fathers,
to Abraham and to his offspring forever."
56 And Mary remained with her about three months and returned to her home.

20) Zechariah named his son John, just as he was commanded to.
Luke 1:57-63 describes the birth of John the Baptist saying,
Now the time came for Elizabeth to give birth, and she bore a son. 58 And her neighbors and relatives heard that the Lord had shown great mercy to her, and they rejoiced with her. 59 And on the eighth day they came to circumcise the child. And they would have called him Zechariah after his father, 60 but his mother answered, "No; he shall be called John." 61 And they said to her, "None of your relatives is called by this name." 62 And they made signs to his father, inquiring what he wanted him to be called. 63 And he asked for a writing tablet and wrote, "His name is John." And they all wondered.
Despite Zechariah's failure to have faith at first, he did the right thing in the end.
The neighbors and relatives questioned Elizabeth's desire to name the child "John", but with a tablet in hand, Zechariah put his foot down and declared the name of the child would be "John" just as the angel said it would be.
21) Zechariah was able to speak again after he named his son.
Luke 1:64-66 says,
And immediately his mouth was opened and his tongue loosed, and he spoke, blessing God. And fear came on all their neighbors. And all these things were talked about through all the hill country of Judea, and all who heard them laid them up in their hearts, saying, "What then will this child be?" For the hand of the Lord was with him.
Zechariah didn't get his speech back after the birth of his Son.
No, it was 8 days later when the message of Gabriel was fulfilled and Zechariah named his son John.

22) Zechariah's son John and his miraculous birth were well known.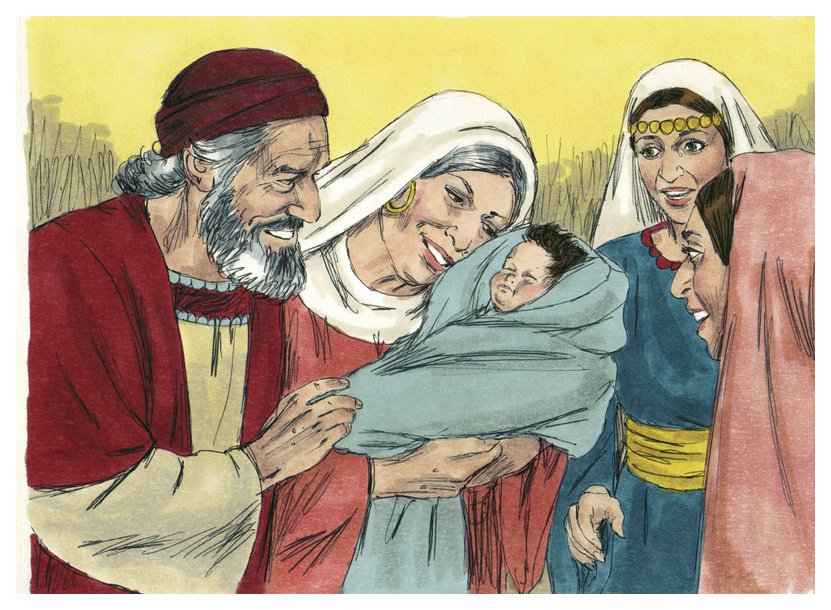 The passage says these events were spoken of all throughout the hill country of Judea
Again, Luke is telling the reader that these events are credible!
23) When Zechariah's voice returned, God used his voice to announce the beginning of a new age.
Read the prophecy of Zechariah in Luke 1:67-80:
And his father Zechariah was filled with the Holy Spirit and prophesied, saying,
68 "Blessed be the Lord God of Israel,
for he has visited and redeemed his people
69 and has raised up a horn of salvation for us
in the house of his servant David,
70 as he spoke by the mouth of his holy prophets from of old,
71 that we should be saved from our enemies
and from the hand of all who hate us;
72 to show the mercy promised to our fathers
and to remember his holy covenant,
73 the oath that he swore to our father Abraham, to grant us
74 that we, being delivered from the hand of our enemies,
might serve him without fear,
75 in holiness and righteousness before him all our days.
76 And you, child, will be called the prophet of the Most High;
for you will go before the Lord to prepare his ways,
77 to give knowledge of salvation to his people
in the forgiveness of their sins,
78 because of the tender mercy of our God,
whereby the sunrise shall visit us from on high
79 to give light to those who sit in darkness and in the shadow of death,
to guide our feet into the way of peace."
80 And the child grew and became strong in spirit, and he was in the wilderness until the day of his public appearance to Israel.

24) Zechariah's story, is the beginning of the Christmas story.
Zechariah is not just some side character in the Christmas story.
When God decided to tell the story of his son Jesus Christ in the gospel of Luke, he decided to start the story with an old priest,
A godly priest,
A sorrowful priest,
A priest who desired a son,
A priest who questioned the messenger of God and was punished.
Yes, God used this priest to announce the beginning of a new age,
The age of forgiveness and grace,
The age of Jesus Christ.
That is the story of Zechariah and the beginning of the Gospel of Luke
So when you tell the Christmas story this year, don't forget to mention Zechariah.
Because God loves to use the most unlikely of people to announce the coming of His Son.
See other posts by Tim (Bio below)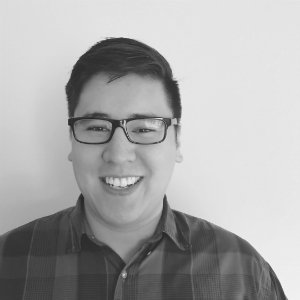 Tim is the senior editor for the ABC Voices blog. He is the director of the Michigan Apologetics Network and is the chapter director of Ratio Christi, an apologetics ministry, at Grand Valley State University. Tim, his wife Alexandra, and children MaryKate, Oliver, and Sunny attend Allendale Baptist Church where Tim also works as an administrative assistant. Anyone who meets Tim easily remembers him as the tallest Filipino they've ever met.