This will be the official page containing our church's meeting details. We plan on keeping this page updated until the crisis is over.
*Last Updated on 8/26/2020
Watch the video announcement about the first phase of our church's reopening plan (3 minutes)
The General Plan
Our church is currently meeting at Lighthouse Community Church at 4:00pm for a corporate worship service.
We will still livestream and publish video of the service online for those who need to stay home.
Our current expository sermon series is going through the book of Romans.
Why are we meeting at Lighthouse Community Church?
We looked into many options for reopening our church services and the elders agreed this was the best option for our church at this time.
We are not able to gather at the facilities we currently use (ACS and Love INC) because while churches have been promised protection from prosecution from the State for gathering, schools and non-profits have not been offered that same protection. Because of this, it is not an option to gather at our current, rented facilities.
We have pursued the idea of meeting on our property, and while it is a viable option, the elders felt it was an inferior option to meeting at LCC. On our property there are many challenges we would need to overcome such as seating, audio/visual, inclement weather, and other concerns.
As you saw in the video, Lighthouse Community Church has graciously offered us their facilities and it really is a best-case scenario for us in light of our current situation.
We are so grateful for Pastor Steve and the leadership at LCC blessing us in this way.
The Specifics
We meeting at Lighthouse Community Church until further notice.
Our services will begin at 4:00pm each week.
We will have in-person equipping classes starting in July. Pastor Mark's class will be from 1:45-2:45 while Pastor Tim and Ryan's class will be from 2:50-3:45.
We plan on doing a lot of singing! We are keeping our worship "production" simple with minimal vocalists and instruments.
Nursery, Pre-K, and Children's Church have all restarted and are available during the worship service.
For those with health concerns, we plan on live streaming and recording video of the service that can be watched from home. Also, it should be possible to designate seating for those with health concerns. Please let us know if you would be interested in this.
Please enter through the canopy door only (see image below)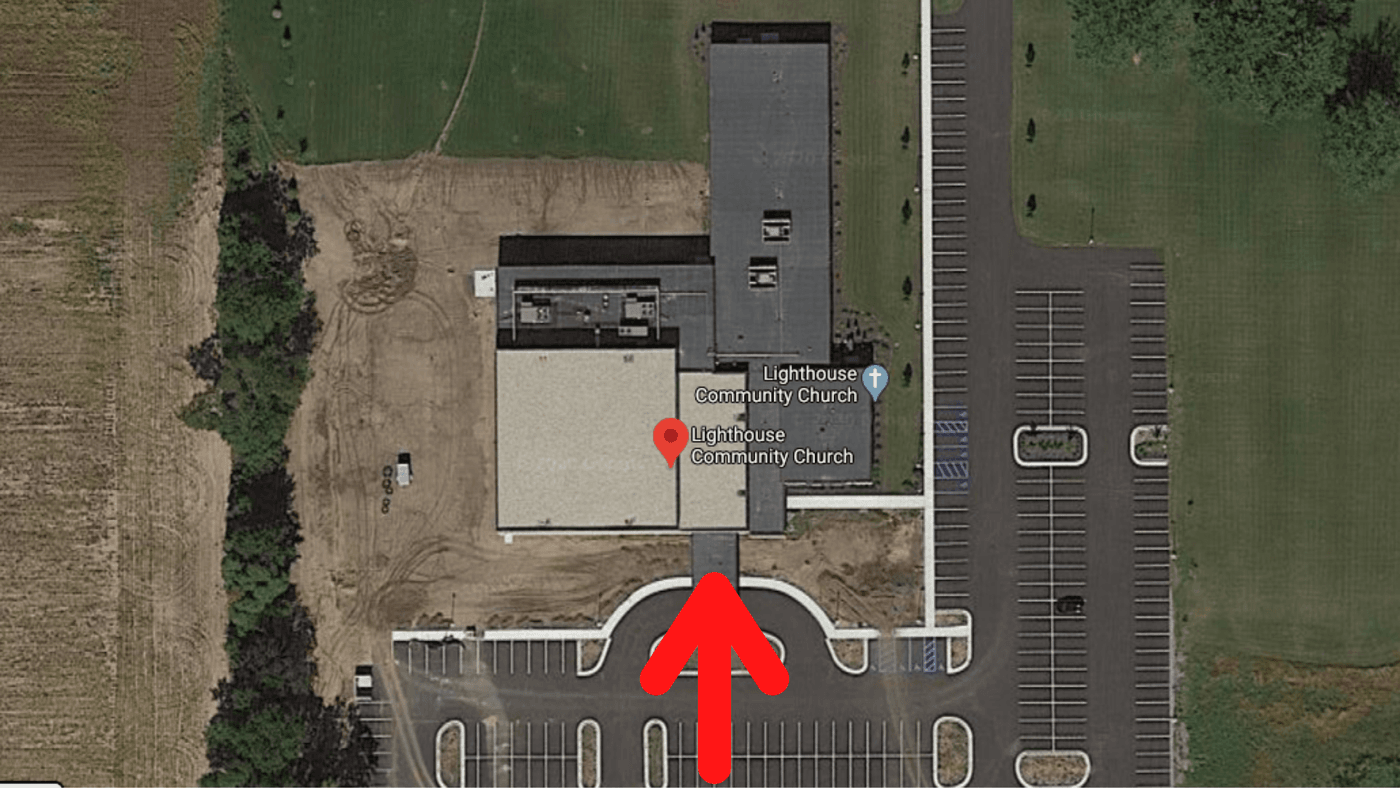 The bulletin and students notes will be emailed to the church and not be printed at this time.
Gifts and offerings may be given in a box at the back of the auditorium (or online). No plates will be passed.
Communion will be in sealed containers and distributed without passing plates.
We plan on minimizing the need for people to touch the entrance/exit door handles as much as possible.
We will do our best to follow CDC guidelines for cleanliness and hygiene
We would request that individuals refrain from shaking hands and hugging at this time as you might not be sure if the other individual is comfortable with physical contact at this time (this request will not be policed).
Individuals may choose to wear a mask or not wear a mask. While this seems to be a divisive issue, we exhort our church to show love and unity by respecting the decisions of others to wear or not wear a mask.
If you are sick or are not feeling well, please refrain from coming to church on that Sunday (especially if you are running a fever).
We will have hand sanitizer available.
Please do your best to keep LCC's facilities clean.
*If you have not yet watched the announcement video above, we recommend you do that now.