Church music is controversial. Each of us prefers different musical styles, song choices, and instruments. Sometimes people choose a church completely based on whether they like the music or not! Do you enjoy the worship time at your church? What if you don't? Let's take a step back and think about why we sing, and what our motivation for worship should be.
What Is The Purpose of Singing?
Have you ever thought about why we sing during our worship services?
We sing because God tells us to.
"Make a joyful noise to the Lord, all the earth; break forth into joyous song and sing praises." -Psalm 98:4
We sing because our hearts are moved by His love and blessings.
"Let us come into His presence with thanksgiving; let us make a joyful noise to Him with songs of praise!" -Psalm 95:2
We sing because our songs remind us of what God has done and help us to give thanks to Him.
"It is good to give thanks to the Lord, to sing praises to your name, O Most High." -Psalm 92:1
Singing is a wonderful tool to express our heartfelt gratitude and joy for who God is and all that He has done for us. Every Sunday we go to church and sing together as a congregation, but it can be easy to take that for granted. Think about it. All these people with different backgrounds, different interests, and different families have come together to worship the same God. We are all praising Him for the things He's done, and doing it in unison! How cool is it that singing allows us to bring glory to God with our whole church family, all at once?
Why Doesn't God Tell Us Exactly What Music to Use?
You might think that it would be much easier if the Bible described exactly what music we should sing or how we should structure our worship services. While that might seem like a great solution, I think there's a reason God didn't do that.
There are so many different styles of music, especially across the cultures of the world. Musicians have unique personalities and life experiences, which come across in the music they play. Instruments, song choices, and technology make almost endless creative possibilities for our worship. God has created each of us as individuals, and it must bring Him joy when we use our creativity to worship Him in different ways, with different music.
What If I Don't Like My Church's Music?
There's a good chance you don't always enjoy the music at your church. It's easy to complain about the style your church chooses or even the musicians. Some go so far as to say they just can't worship if they don't like certain music. So what should you do if you don't like the music at your church? I'd like to offer a few ideas:
1) Worship God, not your preferences.
What is the point of congregational worship? As Psalm 92:1 says, our goal is to give thanks and sing praises to God. He is the focus of our singing. Worship is truly all about Him. If you find yourself complaining, remember that the worship service isn't designed to please you, but to bring glory to God. Ask Him to help you worship well, even if it's not your favorite song or style.
2) Plan personal worship time.
Make sure you are spending time in God's Word, in prayer, and even listening to worship music on your own. This will help to prepare your heart for singing on Sunday. It's also a great time to listen to your favorite music!
3) Find something to enjoy about your church's music.
Choose to find joy in the singing during your worship service. Maybe the lyrics to a certain song really spoke to your heart. Maybe one of the instrumentalists did a really great job that day. Pay attention to these things and find joy in them! Also remember that the worship leaders work hard behind the scenes to bring everything together for a worship service. Pray for them, and thank God for what they do.
4) Get involved!
Are you a musician? Do you think you could bring some skill to the worship program at your church? Volunteer to serve! Talk to your worship leaders. Let them know what you can do, and ask how you can help.
Remember, the Bible tells us to make a joyful noise to the Lord. Apply these tips this week, and I'm sure you will be able to do just that!
You may also be interested in the following posts by Alex (Bio below)
Subscribe to ABC Voices!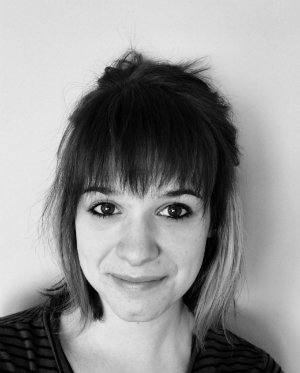 Alexandra is married to her high school sweetheart Tim and mama to MaryKate and Oliver. She earned her Bachelors in Music from Cornerstone University and enjoys teaching piano lessons and leading worship at ABC. When she's not wrangling her active littles, she's probably drinking a latte or rearranging her living room. Again.