The Be Good Gospel
This summer my kids attempted to attend a local Vacation Bible School and after the first day, I got a call that my daughter (who wanted to stay with her big brother) was a handful and they were asking that she not come back the next day. In this case, she wasn't old enough to attend VBS yet (she's 3 and the starting age is 4), but we had asked permission for her to try it out the first day. I understood their perspective and we graciously bowed out for the rest of the week, but this situation really convicted me as a parent. As I thought about how much fun the kids said they had that day, I was sad about the thought of her missing out. Then it hit me that we do this to our kids all the time. On the way to church, we often say, "now be good in class today". Or at home, we find ourselves saying, "make sure you're being good, God wants you to be good, be good for Nana, the babysitter, and so on…" Of course, we have good intentions and we truly do want our kids to have good behavior, but what is the underlying thing they are learning from these words? I believe it could be teaching them that they need to be good first and then we will love them, or even worse, then God will love them.
This is what I've decided to call the Be Good Gospel and it can be a dangerous mindset for us to fall captive to. I believe this idea stems from the way many of us grew up where we followed a lot of rules when it came to church. Those rules often followed into our family lives as well creating an environment where what we do or don't do is more important than the actual condition of our hearts. I have seen this first hand as I reflect back on the strict Christian school I attended and how so many kids were pushed far from God after they left that school because all they knew was a legalistic God who required them to follow a bunch of rules.
Have you ever had an adult say to you, "I need to get my life right and then I will come to Church"? They say this because they have been made to feel like they must be good for God to really love them. Other examples include the people leave churches when they are struggling with sin or failing marriages, have children that walk away from God, and so on. These people all have the same feelings that since everything isn't "good" in life, they can't possibly be loved by God anymore. I remember in high school there were friends of mine that would be grounded from youth events when they got in trouble. Really? Grounded from church? This concept of the need to be good first has plagued our culture in many ways, but I believe the underlying issue is really a matter of the heart.
God's Unconditional Love
My kids truly wanted to learn at VBS, however, their behavior was counted as more important than the desire of their heart to learn. Don't get me wrong, I understand that there must be rules and regulations of some sort with kids (trust me, we have plenty); but if our rules become more important than the condition of their souls, then we are missing the whole picture. God loved us first, and that's why he sent Christ to die for us and redeem our sinful souls. We don't have to do anything special for God to love us, He just does. The Bible has a lot to say about God's unconditional love for us:
In this is love, not that we have loved God but that he loved us and sent his Son to be the propitiation for our sins. -1 John 4:10
But God shows his love for us in that while we were still sinners, Christ died for us. -Romans 5:8
For by grace you have been saved through faith; and that not of yourselves, it is the gift of God; not as a result of works, so that no one may boast. -Ephesians 2:8-9
-
So how should we train our children? Obviously, we can't let them all run wild all the time and expect to achieve much, but perhaps we should question the environments we place them in and if they are appropriate for what their little minds and bodies can handle. My three-year-old daughter could pick up a lot from a story even though she wasn't sitting and looking directly at the teacher the whole time. So maybe the outlook that we have when training these young hearts should focus less on the behavior we desire them to have in the moment and more on the overall lessons they are learning. When it comes to teaching them about God, the Bible, character lessons, life lessons, and so on I must acknowledge their stage of life and recognize the condition of their hearts. These are little, unsaved souls in front of me. They are inherently evil because of Adam's sin and the curse on all of mankind. Thus, my expectations for them cannot be unrealistic.
Understanding that they are unsaved and don't inherently know how to be good, they must be constantly and continually trained toward that desired behavior. The training part is essential in finding those ideal results! This requires parents, teachers, grandparents, babysitters, and others that are involved personally with our children to approach them with the mindset that they aren't going to simply be good; rather we are going to love them and guide them into good behaviors by teaching them God's Word. It takes an immeasurable amount of patience and a mindset that allows for imperfection. For example, if I am sharing a story with my kids, they may have blocks or trains to play with while I am reading. This doesn't mean they aren't listening or learning, it just allows their little hands to stay busy because this is what they need at this age. For us, this is a constant process as I often feel like I'm losing the battle; especially when there are days when I feel like I did nothing but discipline all day! The wonderful truth I must remind myself with is that the war has already been won!
Big Truths for Little Souls
Ultimately, we want our children to first understand the Gospel and recognize that Jesus took our place when it comes to the punishment we deserve for our sin. Secondly, we want them to follow Jesus' command when he said, "You shall love the Lord your God with all your heart and with all your soul and with all your mind. This is the great and first commandment. And a second is like it: You shall love your neighbor as yourself." (Matthew 22:37-39 ESV) If we begin teaching our toddlers these big truths, we will find that God will change their hearts even at a young age. As much as we want to believe it sometimes, we are not in control of our children's salvation. However, we have a huge responsibility to guide them toward the God who will save them! The best way we can do that is by exposing them to a variety of environments in which they can learn about how God loved them first and then we will hopefully see their behavior begin to change as their hearts are changed. We don't want to just keep telling them to be good and require them to follow the rules, we want them to have a desire in their hearts for good behavior because they understand God's unconditional love for them and our unconditional love for them even when they aren't being good. So, when you find yourself in a moment of training or discipline, take time to share the love you have, and the even greater love that God has, for your child as you help them to understand how and why they ought to be good. Let's strive for this verse to be true for us as parents: 3 John 1:4 "I have no greater joy than to hear that my children are walking in the truth."
More posts by Amy: (Bio Below)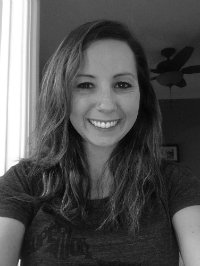 Amy Schaap is a stay-at-home mom, wife, and realistic homemaker. She and her husband, Derek have been married for six years and currently have three kids, Kaeden, Kylee, and Kendyl with a fourth on the way this December. Amy graduated from Liberty University with a Bachelor's in Women's Ministry and has a heart for young women and moms of littles. At this phase in life, with three kids 4 and under, she enjoys lots of play dates and warm weather when the kids can get outside and not destroy the house!
Subscribe to ABC Voices!