"Enjoy every minute!" It's a phrase we hear thrown around often, especially to moms with new babies. Most of the time, it is well-intended and meant as sweet advice. However, in my experience, it is not always well-received.
I did not "enjoy every minute" of my time in the hospital with my son after he was born; I cried for most of it. I did not "enjoy every minute" of taking him home from the hospital, either. I could go on and on about the things I quite thoroughly didn't enjoy about having a newborn. For a long time, I felt awful and guilty because I did not "enjoy every minute." Late at night, I would cry to my husband and say, "Is there something wrong with me because I'm not enjoying this? Am I not meant to be a mom?"
Fast forward two years, and I can confidently say that I am enjoying *nearly* every minute. Aside from the flustered moments during my toddler's temper tantrums and pulling soggy toys out of the toilet, I really do enjoy being "mama" to a toddler boy. His sweet giggle, his tight hugs, and his silly antics brighten up every part of my life.
I've learned that every mom is different. Some adore the quiet snuggles with a newborn and don't mind losing some sleep, while others prefer the busyness of toddlers as long as they can sleep all night. Whatever the case may be, I know that not every mom can truly say they have "enjoyed every minute" of their children. Becoming a mom is a huge transition, with ups and downs and everything in between. Hormone changes, body changes, and becoming totally responsible for another human's well-being can be overwhelming!
Before I had my son and now that he is a toddler, I've had many conversations with older women who admonish me to "enjoy every minute." It used to make me upset, and sometimes I would quickly get defensive and explain why being a new mom really isn't all that fun. Since then, I have learned to take the advice as it is meant. But how can older women truly be a help and encouragement to new moms instead of alienating themselves by talking before they think? And how can new moms learn to find the truth in advice they hear?
What does God have to say to new moms who struggle to find joy in their new role?
"Rejoice always, pray without ceasing, give thanks in all circumstances; for this is the will of God in Christ Jesus for you."
-1 Thessalonians 5:16-18
"Rejoice in the Lord always; again I will say, rejoice."
-Philippians 4:4
1) Seek God! He is the only one who can provide the joy you are looking for, even when life is uncomfortable.
2) Make a list every day of things to be thankful for. While being a mom to a newborn can be really difficult, there are lots of amazing things about having a new person in the house!
3) Reach out to someone for encouragement. I felt so relieved when I began talking to a mom who understood how I was feeling and let me express myself without fear of being judged for not enjoying the particular moment.

What does He have to say to older moms, who give well-intended advice that can come across judgmental?
"Older women likewise are to be reverent in behavior, not slanderers or slaves to much wine. They are to teach what is good, and so train the young women to love their husbands and children,"
-Titus 2:3-4a
"Let no corrupting talk come out of your mouths, but only such as is good for building up, as fits the occasion, that it may give grace to those who hear."
-Ephesians 4:29
1) Think twice about giving unsolicited advice. Some new moms feel overwhelmed by hearing advice from all sides. Instead, ask her how she is doing and just listen!
2) Invest in a younger mom in your life! Purposely get involved in her life and do practical things to show her you care. Many young moms are nervous to ask for the help that they need and will be encouraged to know that someone is there for them.
3) Disciple the younger women around you; you have great life experience! Follow the example in Titus 2 and "train up" the younger women in your life.

Both young moms with babies and older moms with experience can learn about each other and disciple each other in the process. Instead of getting defensive or being judgmental, it is important to meet people where they are at and love them as Christ loves us: sacrificially and unselfishly. God commands us to be joyful in all circumstances, even trials. Thankfully, He gives us people in our lives who understand what we are going through and can encourage us along the way.
Even though I did not enjoy every minute of my son's newborn stage, I am incredibly thankful that God put people in my life who loved and cared for me exactly when I needed it. As I get older, I hope to come alongside and disciple moms with babies as they, too, struggle to "enjoy every minute."
You may also be interested in the following posts by Kenzie (Bio below)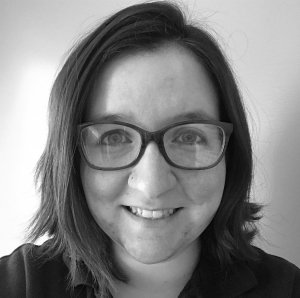 McKenzie Hollingsworth lives in Allendale with her family. She met her husband Bradley on a dating website and they've been smitten ever since! They stay busy at home with their active son. McKenzie works at an outpatient medical facility. Her passion is sharing God's love by caring for others. She loves spending time with her family, baking treats for anyone who walks in the door, and going on dates with Bradley.