The "I Wish" Syndrome
"Oh, he's definitely going to miss it" said one of my fellow eighth graders. "There's no way he's got this," said yet another. Then, as the first speaker pitched the ball, more as a lob than a fast throw, my confidence started crumbling. I flashed back to all the times during Little League many years ago when I would swing my bat at nothing but air. Sure enough, as the ball crossed the frisbee we were using as home plate, I had a nice clean swing. A surprisingly smooth motion. Even a pretty decent follow through. But where was the ball? Naturally, it was behind me. Strikeout. Not quite MVP material. My confidence, not surprisingly, lowered. I wished I had more athletic skill.
I was like a lot of other middle schoolers. Insecure about changes happening to me. The chicken pox acne, the soprano-pitch voice cracks, and everything else that came with this time of life had me a little shy. And gosh darn it I just had to start getting into girls too; however, being my acne afflicted and shy self, I never really thought a girl would like a slightly smarter, completely unathletic, tall guy like me. By my own thoughts, my confidence again lowered. I wished I wasn't so awkward.
This pattern is a mess I've been caught in all too often. Whether it's being self-conscious about acne or an embarrassing moment of un-athleticism, I find myself saying "I wish". I wish I could be more popular. I wish I was stronger. It's incredibly tiring to be constantly worrying about how I can be accepted.
The "I Am" Cure
One morning, while reading through my devotions, I was reading through Psalm 147:4-5, in which David says
"He counts the stars and calls them all by name. How great is our Lord!"
I started thinking about stars we see every day in the night sky. Some are blue. Some are yellow. Some are millions of times bigger than earth. Some are smaller than the Sun, but no matter their color, size, or temperature, they are specifically placed, loved, and known intimately by God. These stars can't look at another and say "I wish I was bigger like that star" or "I wish I was blue like that star". They would never do that. Instead, each says instead "I am created in love" and "I am placed where I need to be". Each one can say "I am" with confidence.
This boggled my mind! I'm loved and known by a God who knows every star in the sky, even the ones we haven't found yet. He loves me in my seasons of acne. He loves me in every voice crack. He even still loves me when I strike out in eighth-grade baseball. I can have confidence in myself. Psalm 139:13 states,
"For you created my inmost being; you knit me in my mother's womb."
There is no template or easy shortcut when knitting. God purposefully and intentionally created me, before I even knew the word "love", to be unique and, above all, beautiful.
I've grown to love who God created me to be. I am an intentional creation. I've grown to see the ways that "I am" and not so much the "I wish". I'm not always perfect, but I try to remind myself that I'm made in the image of a God who loves me unconditionally. Not only this but I when I see these characteristics in myself, I'm able to see good qualities in people around me too.
As I came up to bat for that final swing, in the background of those negative comments, as a response for those mocking me, one of my friends said "I believe in him. I think he'll hit it". Then, even after I swung and missed, he smiled sincerely at me and said, "you tried your best, it was a good effort". Those small words, despite my pride being hurt, made up slightly for the fact I missed. He showed me love when I didn't see it in myself.
God shows us his love in the way my friend did, with encouragement and kindness. And God's love is best seen is Jesus Christ. Jesus loves you. I hope you can understand and believe that. Remind yourself of it every day and make it your mission to show that same love to everyone around you.
You may also be interested in the following posts by Luke (Bio below)
Subscribe to ABC Voices!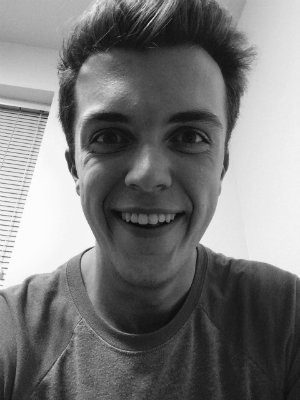 Luke is currently a Junior at Grand Valley State University where he is studying Computer Science with a minor in mathematics. He loves being with friends at college but loves being home with his family and girlfriend too. He doesn't know what's going to happen in the future but is excited to see God move and work in his life.