My Anxious Life
Anxiety. That crippling fear. That sense of impending doom. Heart racing, head spinning, chest so tight it's hard to breathe. Afterward, you're left with a stomachache, a headache, complete exhaustion, and sometimes deep sadness.
I don't know if you've ever felt this way, but I know for many people, at least 40 million per year in the US, according to the Anxiety and Depression Association of America, this is a part of life.
I have fought with anxiety for most of my life. I'm no stranger to panic attacks and fearful thoughts that spin out of control and plague my mind. As a kid, I was scared of everything. My parents tell stories of me crying because of the wind blowing and being terrified of any loud noises. After high school, I suffered from my first few panic attacks and general anxiety that eventually led to making bad decisions. Soon after, I dropped out of college to figure out what was going on and make some changes.
Left unchecked, anxiety can do severe damage. From digestive issues to heart problems to deeper psychological diagnoses, anxiety can cause any number of problems for a person's body and mind. Because of the response that the body produces during an anxiety attack, a person with anxiety tends to be exhausted. This response is usually referred to as "fight or flight." The body is falsely told to get ready for danger, hence the heightened heart rate, "butterflies in the stomach," hyperventilation, and lightheadedness. For many people, experiencing the "fight or flight" response over and over results in extreme fatigue.
When I am having a particularly anxious week, I usually spend much of my time on the couch. I get home from work after fighting with anxious thoughts and feelings all day and collapse onto the couch. The thought of getting up to clean or chase after my son is completely overwhelming. Naturally, this causes problems in my home, as I can't live my life lying on the couch! As tough as it is to admit all of this, I hope this will be an encouragement to someone who might deal with a similar situation. It was such a relief for me to learn in talking with friends and family that I am not the only one who struggles with anxiety.
I Have Anxiety! What Should I Do?
Do you feel like anxiety gets the upper hand more often than not? I've been there. Sometimes I'm still there. Actually, today anxiety has been fighting for the driver's seat. So I get it. It feels out of control and impossible to fight. I want to share with you a few things that have helped me, and I hope that they can help you, too.
1) Seek help. Some people with anxiety learn great coping skills, while others need medical help. Since I'm not a doctor or a professional in any way, I'd advise anyone struggling with severe anxiety to get in contact with your doctor to learn more about what your body needs. (I did, and it was the right choice for me!)
2) Schedule an appointment with a biblical counselor. A biblical counselor will give you advice from a biblical perspective and point you to the Scriptures to find answers. It may sound obvious, but I can't stress enough the importance of getting professional advice from someone who will filter everything through the Word of God.
3) Claim the promises of God. Regardless of what my anxiety tells me about myself, God's love is unwavering. Find some verses that talk about anxiety and worry and memorize them! Here are a few that I like to remember:
"Do not be anxious about anything, but in everything by prayer and supplication with thanksgiving let your requests be made known to God. And the peace of God, which surpasses all understanding, will guard your hearts and your minds in Christ Jesus." -Philippians 4:6-7
"When the cares of my heart are many, your consolations cheer my soul." -Psalm 94:19
"Casting all your anxieties on him, because he cares for you." -1 Peter 5:7
4) Pray, pray, pray! Make it a priority in your day to talk to God. When you're driving somewhere, pray. When you're doing dishes, pray. When you're walking to your car after work, pray. Ask the Lord to keep your focus off of your feelings and on Him! Practice being thankful and listing the blessings He has given you.
5) Learn your "triggers." I know that I will get very anxious before a big meeting at work. I've learned that preparing myself before I start feeling anxious helps me. Praying, taking a walk, keeping my breathing slow, and keeping busy all help me to ward off an anxiety attack. Sometimes an attack hits me out of the blue but knowing what things usually trigger one help me to feel calmer.
I Know Someone With Anxiety! What Should I Do?
Anxiety is a complicated issue. In a lot of circles, it is shameful and looked down upon. I can't even count how many times I've been advised to "just stop" or heard that "more faith" would make it go away. I wish it were that easy! Instead of giving unwelcome advice, here are a few things I've found helpful from my friends and family:
1) Remember that each one of us deals with unique struggles. You may struggle with anger, jealousy, or depression; I may not understand those struggles! As the body of Christ, we are to come together and "encourage one another and build each other up." -1 Thessalonians 5:11
2) Show compassion. While we are called to speak truth into each other's lives, do so with love. Several years ago, I was making bad decision after bad decision after allowing anxiety to control my life. My dad made a point to gently speak truth into my life. But more often than not, he didn't use words. He loved me, encouraged me, and treated me kindly. That spoke volumes to me. It wasn't just the "you should do this" that pushed me to Christ, it was the constant love he showed that helped me to have victory.
I am so thankful for the victory I can have over anxiety because Jesus Christ beat death. I don't have to rely on my feelings and allow anxiety to take over my life. Instead, I can surround myself with people who love the Lord and encourage me to keep my focus on Him, practice memorizing scripture, and pray my fears to my Heavenly Father who is the only one who can bring true healing.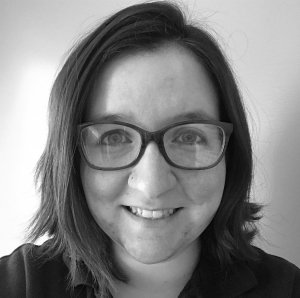 McKenzie Hollingsworth lives in Allendale with her family. She met her husband Bradley on a dating website and they've been smitten ever since! They share their home with their busy, active son and their lazy dog. McKenzie works full-time caring for the elderly in an assisted living home. Her passion is sharing God's love by caring for others. She loves spending time with her family, baking treats for anyone who walks in the door, and going on dates with Bradley.
Subscribe to ABC Voices