Our dear friends got married recently, and Bradley and I were so honored to stand up next to them while they promised their lives to each other.
There were happy tears, smiles, and so many emotions during the day as we celebrated the start of a new marriage.
In the midst of the fun and excitement of the day, I started thinking about my own marriage and others' around me. After being married only two years, sometimes I don't enjoy every minute of being married.
Sometimes I don't want to be a team with Bradley and value what he has to say. Sometimes I just don't feel like loving him.
What happens when the "honeymoon stage" is over and the excitement wears off?
What if things get difficult and I don't feel like loving my husband anymore?
I started listening through a sermon series from 2007 by John Piper entitled "Staying Married is Not About Staying in Love."
He talks about how easy it is to let our feelings dictate our decisions, and how God's design for marriage is so much more than our feelings and happiness.
God designed marriage to be a picture of covenant love between Christ and the church. No matter how many times the church backslides or wanders away, Christ keeps his covenant.
Ultimately, Piper concludes, "Staying married is not about staying in love; it is about covenant keeping."
Husbands, love your wives, as Christ loved the church and gave himself up for her.
-Ephesians 5:25
Christ died on the cross to take care of everything I have ever done or ever will do because of his covenant love.
Because of how much I have been forgiven, and because of the insane measure of grace I have been given, how can I not extend that same covenant love and grace to my husband?
There will be times when I feel as excited about my marriage as my friends did on their wedding day just a few weeks ago.
There will also be times when I struggle to cherish my marriage.
Regardless of how I feel, I am called to keep the covenant I made to Bradley before God on March 7, 2015.
The covenant to love, respect, and lavish loads of grace on him because of the grace I have been given so freely.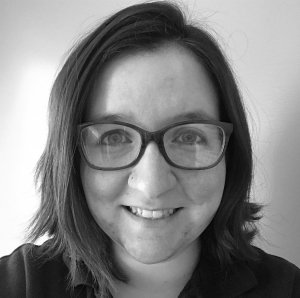 McKenzie Hollingsworth lives in Allendale with her family. She met her husband Bradley on a dating website and they've been smitten ever since! They share their home with their busy, active son and their lazy dog. McKenzie works full-time caring for the elderly in an assisted living home. Her passion is sharing God's love by caring for others. She loves spending time with her family, baking treats for anyone who walks in the door, and going on dates with Bradley.
Subscribe to ABC Voices!