We all know we need to forgive others, and many of us want to, but most of us don't know how. Forgiveness is hard enough even when there's an apology and reconciliation, so what are we supposed to do when the person who hurt us isn't sorry? How are we supposed to move on when there's no closure? How can we make peace in our hearts when those people don't even understand that what they did was wrong?
During the past few months, I've been on a personal journey to find freedom from bitterness. I thought I should share with you the five things that have helped me most:
1. Realize the only person you're hurting is yourself.
I heard a quote once that said, "holding on to anger is like drinking poison and expecting the other person to die." I don't know why we always think that hating someone will make them suffer because it doesn't. That person has moved on and is out there having a great day, not caring that you're still mad. You're only letting that person continue to hurt you and have control of your life from afar.
2. Humble yourself.
I don't know about you, but I tend to think of myself much higher than I should. This "I deserve better!" attitude causes me to be hurt by things that aren't actually that big of a deal. When I realize the world doesn't actually revolve around me (wait, it doesn't?), it's easier to let other people's failings slide. If anyone deserved better, it was Jesus. He was perfect, and he had poured so much time and love into his 12 disciples. Yet one betrayed him, another denied him three times, and the rest abandoned him. If Jesus didn't fall into bitterness, why do we think we have the right to?
3. Stop talking about it.
"I need to vent" or "I need advice" are some of my most frequently-used excuses for gossiping and re-visiting a conversation that should have been dropped months ago. Talking things out is vital to the healing process, but this should be done with a pastor, mentor, or counselor. Romans 12:14 says, "Bless those who persecute you; bless and do not curse." If we keep talking badly about the person who hurt us, we're not only disobeying God, but we're doing ourselves a disservice. Every time I vent to a friend about the bad things someone said or did to me a long time ago, I re-open those wounds and get angry about it all over again. Just when I thought I'd moved on, I bring myself back to square one.
4. Preach the gospel to yourself.
C.S. Lewis says, "To be a Christian means to forgive the inexcusable because God has forgiven the inexcusable in you." The greatest forgiveness story in history is when Jesus was crucified in my place, taking the punishment I deserved for all of my inexcusable sins. How can I, having been forgiven so deeply, hold onto bitterness against others?
5. Pray.
Alex Nsengimana's testimony is one of the most powerful testimonies I've ever heard. As a very young child, he watched his neighbors torture and kill his uncle and grandmother during the Rwandan genocide. After he became a Christian later in life, he learned that "God loved me, and God loves not just me, but everybody. Including the people who killed my family." He wanted to forgive his neighbors, but it just seemed too difficult. He started praying that the Lord would help him heal to the point where he would be able to sit with the man who had caused him so much pain. Eventually, after praying this for 12 years, he was able to meet with the man who killed his family. He hugged him, told him he forgave him, and prayed over him, asking that God would bless his life. Alex says, "It was the hardest day of my life but also the most freeing day of my life because I was able to get the bitterness and anger off of my shoulders." I've learned from Alex to pray for God to soften my heart, and that God will bless the people I'm angry with. There's no way any of us can do this by our own strength.
BONUS - Do something nice for that person (anonymously).
Get rid of all bitterness, rage and anger, brawling and slander, along with every form of malice. Be kind and compassionate to one another, forgiving each other, just as in Christ God forgave you. -Ephesians 4:31-32
This may not be appropriate for every situation, but being able to privately do something for someone, like sending flowers or paying for that person's food at a restaurant, is a great way to live out that verse. This will be difficult, but it will be so helpful in finally getting that burden of hurt off of your heart for good.
It's okay to feel hurt by something, and it's human nature to grow bitter after you've been wronged. We, however, are called to be different. What better way to shine the Light of Christ in this broken and angry world than to forgive the people who have hurt us the most?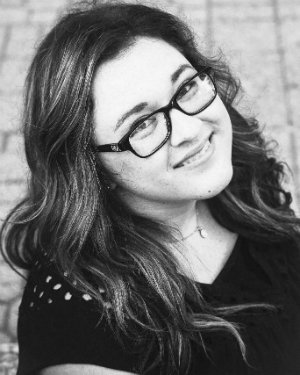 Aubri is a 21 year old cosmetology student who currently lives at home with her parents, 3 younger brothers, dog, chickens, and parakeet. She enjoys singing on praise team and spending time with people. She's not sure what her future holds, but is excited to follow God every step of the way.
Subscribe to ABC Voices!