Love. We hear songs about it, we watch movies about it, we talk about it, and most of our lives revolve around it to some extent. Valentine's Day is tomorrow, and I'm sure you've seen balloons, cards, and candy with "LOVE" scrawled on them. People are constantly looking for love on Tinder, eharmony, and countless other dating sites like Farmers Only (it's real, I promise). Even with so much of our lives focused on love, it always seems to disappoint. Relationships fail, couples break up, and friendships dissolve.
The Big Problem
Why does love let us down? What about "happily ever after"? Consider these verses:
Ecclesiastes 7:20 "Surely there is not a righteous man on earth who does good and never sins."
Romans 3:10 "as it is written: 'None is righteous, no, not one;'"
Romans 3:23 "For all have sinned and fall short of the glory of God."
The Bible says that every single one of us messes up. No exceptions. Since Adam and Eve sinned in the beginning of time, the curse of sin rests on all of us. There is no way we can give and receive perfect love that doesn't disappoint because we are sinners. All of our relationships, friendships, and endeavors are doomed to fail because of sin.
The Big Solution
You might be thinking, "What's the point if we're all doomed to fail?" Not so fast, friend! Even though we are all going to disappoint each other, mess up, and potentially ruin relationships, there is a love that won't disappoint. There is a love that we can trust, no matter what. Even if every single person in the world lets you down, this unconditional love will be there. That love comes from God.
From the beginning of time, God knew you were going to be born. He knew what hair color you would have, how tall you would be, and what your laugh would sound like. He created you and all of your quirks, and he LOVED you.
Can you believe it? The one who called the universe into being, who knows where every star is, and who breathed life into the earth loves you. He doesn't just know who you are: he loves you!
The Big Rescue
After sin entered the world, people were unable to have a relationship with God, and their relationships failed left and right. Like I mentioned earlier, none of us are immune to sin. Because of sin, we are separated from God. There is no way to receive and enjoy that love because every single one of us has violated his rules.
But in his great kindness and enormous love, God made a rescue plan. He didn't just ignore our sin or pretend it wasn't there. He did what none of us could do. He became a human (Jesus), lived among humans perfectly, and ultimately sacrificed his life and beat death so we could have a relationship with him. His sacrifice became a gift for anyone who wants to enjoy his perfect, never-ending love.
The Big Response
Because of what Jesus did when he died and rose from the dead, we can enjoy and feel secure in God's perfect love.
"For God so loved the world, that he gave his only Son, that whoever believes in him should not perish but have eternal life." -John 3:16
"He himself bore our sins in his body on the tree, that we might die to sin and live to righteousness. By his wounds you have been healed." -1 Peter 2:24
When we begin a relationship with God, we are no longer obligated to sin anymore. Like 1 Peter 2:24 says, God's gift of salvation and perfect love allow us to "die" to our sin and live in righteousness.
This isn't to say that we will get it right every time. However, God's love should inspire us to love sacrificially. God loved us so much that he gave himself up for us when we were still sinning against him (Romans 5:8).
We have someone who loves us perfectly, no matter how many times we mess up and need to ask for forgiveness. Even if every relationship on earth you have disappoints you, God's love for you will never disappoint, will never let you down, and will never fail you.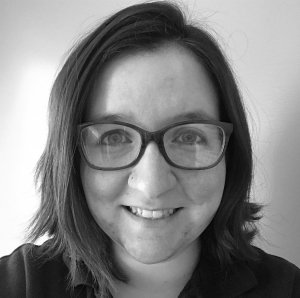 McKenzie Hollingsworth lives in Allendale with her family. She met her husband Bradley on a dating website and they've been smitten ever since! They share their home with their busy, active son and their lazy dog. McKenzie works full-time caring for the elderly in an assisted living home. Her passion is sharing God's love by caring for others. She loves spending time with her family, baking treats for anyone who walks in the door, and going on dates with Bradley.
Subscribe to ABC Voices